Since 2012, Olympus Energy has worked to develop a premier position in the core Marcellus, Utica, and Upper Devonian basins of Southwestern Pennsylvania, assembling over 100,000 largely contiguous acres rich in natural gas resources. This operational footprint is home to families and businesses who enjoy all the regional landscape has to offer, from recreation to agricultural development opportunities to the simple beauty of wide-open spaces. And, while oil and natural gas development is only a temporary activity, Olympus recognizes the value that a reduction in surface locations presents for its neighbors.
When Olympus began active permitting five years ago, the team anticipated a build-out of 40 well pads to deliver maximum value to its landowner partners. Since that time, the team has worked to integrate technology-driven practices that enable significant consolidation of surface activity. Today, Olympus plans to develop just 26 well pads – a reduction of nearly one third.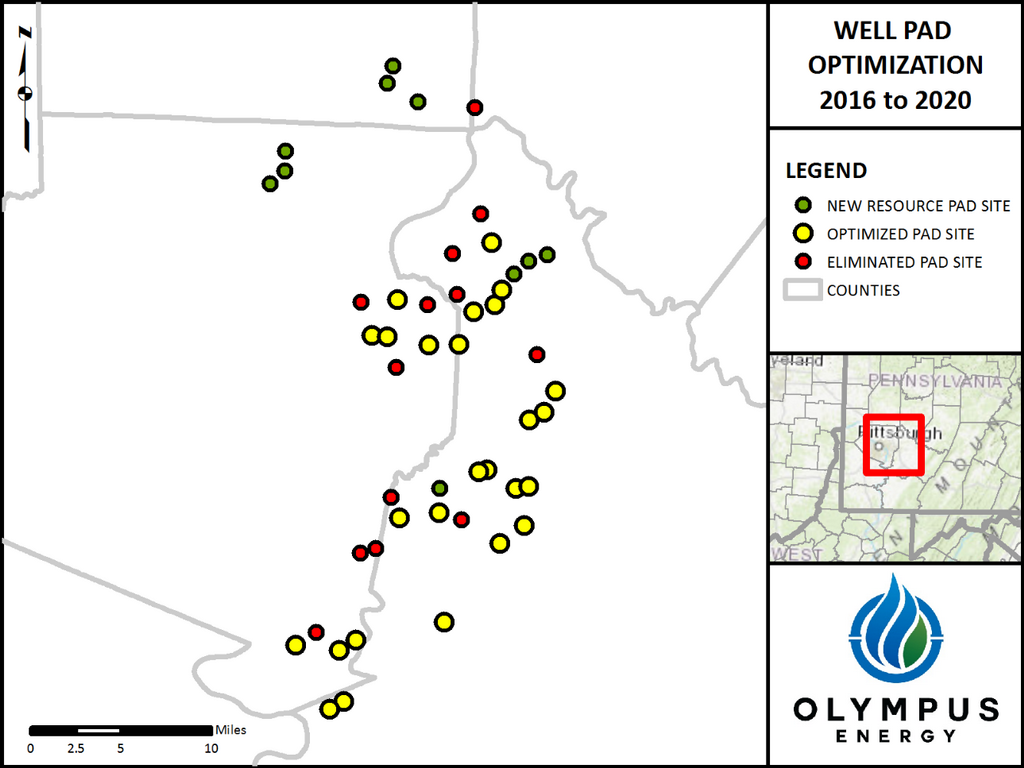 "For us, it's about maximizing our efficiency with the land we have," said Senior Vice President and Chief Operating Officer Michael Wahl." We have worked extremely hard to increase our lateral length because this allows us to also increase our resource development while only accessing one surface location versus two or three. It's a win-win for both us and our landowners."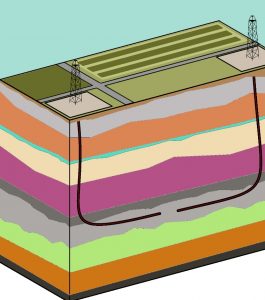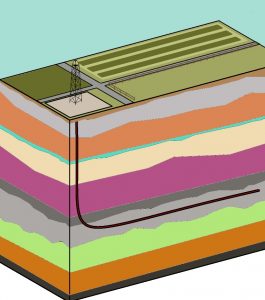 A leading example of Olympus's commitment to surface location reduction is in Plum Borough, Allegheny County, where roughly 73 percent of the Borough's 18,534 acres are leased for natural gas development. Olympus began operations in the community in 2016 with expectations of a six well pad growth plan to properly develop its leasehold.  
"We launched the Plum Borough development with one delineation well on the Midas Well Pad," said Wahl. "We spent a lot of time analyzing the results of this well and were careful to consider the region's geological complexity. That investigation enabled us to abandon our previous assumptions about the area and come up with a strategy that would cut our number of planned surface locations in half."
That strategy included an expansion of planned lateral length that has been applied to wells throughout the Olympus operational footprint in Allegheny and Westmoreland counties. On average, the Company expanded lateral length by 5,000 feet per well, ultimately reducing the overall number of planned wells from 40 to 20.
"The thoughtful minimization of surface disturbance allows our operations to more easily coexist with the residential and agricultural nature of our community," said Wahl. "While our disturbance is temporary in nature, we remain fully committed to taking practical steps to reducing that impact."
About Olympus Energy
Olympus Energy LLC ("Olympus") is a privately-held energy company headquartered in Canonsburg that specializes in upstream and midstream development of natural gas resources in the Appalachian Basin. Olympus has a scalable asset base in southwestern Pennsylvania, having assembled over 100,000 largely contiguous and operated acres within the core Marcellus, Utica, and Upper Devonian fairways . Visit www.olympusenergy.com for additional information.